| | | |
| --- | --- | --- |
| <-- Previous | Series | Next --> |
| | | |
2nd Super Robot Taisen Original Generation (第2次スーパーロボット大戦OG, Dai 2 Ji Sūpā Robotto Taisen Ōjī) is a Japanese tactical role-playing game for the PlayStation 3 developed by Banpresto and published by Namco Bandai Games. It is the sequel to Super Robot Wars Original Generation Gaiden. It was intended to be released on September 29, 2011, as part of the SRW franchise's 20th Anniversary but got pushed back to November 29, 2012.
Story
Aidoneus Island, in the Marquesas Archipelago in the South Pacific, the landing point of "Meteor 3", the same meteor the aliens called the "Aerogators" sent long ago, as well as the primary headquarters of the military association known as the "Divine Crusaders", who threw the Earth Sphere into chaos... The oceanic area around it has been blocked off, and for a time, it has vanished from the stage of history. But behind that stage's curtain, a certain plan has been steadily proceeding.
That plan is to have a special task force which uses ISA tactics (Blitzkrieg operations using mobile battleships that fill the role of an aircraft carrier, and the humanoid mobile weapons placed on board such battleships) and acts according to the will of the President of the Earth Federation Government. It is established under the codename "GS."
"GS" is a military organization independent of the Earth Federation Army, and its primary mission is to carry out special presidential orders concerning military problems. In addition, refortification of Aidoneus Island has been proceeding under the direction of the president's two aides, and on that island, a variety of project deliverables, many new weapons, have been being gathered. However, the true nature of "GS" is being kept secret, and on the surface, it has been designated as an experimental squadron for new weapons. Will "GS" be a new sword to protect the Earth Sphere?
Featured Series
DC Wars/Masou Kishin Saga
Alpha Series
Nintendo Handhelds
Other SRW Games
Non-game SRW Media
Non-SRW Games
Character and Mecha units
List incomplete until game release
Characters
Ariel Org

Cliana Rimskaya

Perfectio

Hugo Medio

Duvan Org
Amara

Leona Garstein

Glacies
Wintos
Contagio
Aquila
Ignis
Umbra
Arrière Org
Devant Org
Amara

Tasuku Shinguji

Rishuu Tougou

Mio Sasuga

Precia Zan Zenosakis
Xenia Grania Bilseia
Monica Grania Bilseia
Gennacy I. Kozireh
Volkruss
Cienne
Arasari
Grofis Raclein
Justine Chafrois
Zebris Forschwa
Teniquette Zezernan
Mekibos
Kukuru
Robots
List incomplete until game release
Aile Chevalier
Flickerei Geist
Ashe
Jakubuou
Bujakuou
JinRai (New)
Wildrauptier Schnabel (New)
Code Evil (New)
Alles Geist
Cerberus
Medius Locus
Ryujinki

Dea Blanche Neige
Violaceum
Fabularis
Studium
Fortis Ala
Impetus
Fatum
Flickerei Geist
Alles Geist
Schwert Kai
AM Gunner
Grungust Type-3
RyuuKoOu
KoRyuuOu
JakuBuOu
BuJakuOu
Ryuujinki
Dygenguard
Aussenseiter
JinRai (New)
RaiOu
Wild Rauptier Schnabel (New)
Galilnagant (New)
Garmraid
Garmraid Blaze
Cerberus
Cerberus Ignus
Medius Locus
Garberus
Compatible Kaiser
G-Compatible Kaiser
G-Thundergate
G-Bankaran (New)
Diablo
Norse
Norse Ray
Galguard
Jaohmn
Duraxyll
Blowel
Rujanol Kai
Baform
Gildora
Eulid
Wizol
Nagizzard
Shiva Volkruss
Kelberion (New)
Cylion (New)
Excellence Rescue (New)
Vizor
Masquereon (New)
Liege Geios
Beautrifa
Baran Schnail
Al1
Custos
Magarga
Shin Ryuuouki
Nashim Gan Eden
Videos
Special Editions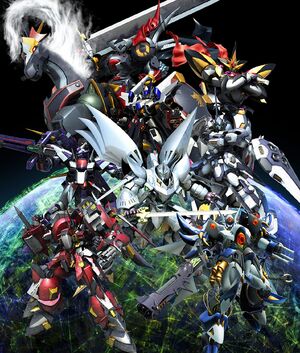 External Link