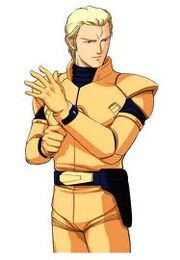 'Char Aznable' (シャア・アズナブル, Shā Azunaburu) is a fictional character from the Gundam franchise. He is originally one of the main antagonists in Mobile Suit Gundam and later becomes one of the protagonists of Mobile Suit Zeta Gundam. In his final appearance in Mobile Suit Gundam: Char's Counterattack, he assumes leadership of the Neo-Zeon movement, named after his father Zeon Zum Deikun, and becomes the titular antagonist of the film.
Born Casval Rem Deikun, Char Aznable is also known as Edward Mass and the alias Quattro Bajeena. He is nicknamed the "Red Comet", due to the speed at which he destroyed five of Earth Federation's Magellan class battleships with his red Zaku at the Battle of Loum during the One Year War (which earned him a promotion of two ranks to Lieutenant Commander). He is the elder brother of Sayla Mass (Artesia Som Deikun), and the son of late Zeon Zum Deikun, the champion of sovereignty for the space colonies of Side 3, founder of the Republic of Zeon.


Community content is available under
CC-BY-SA
unless otherwise noted.