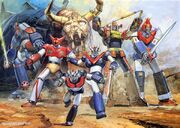 The category of "Super Robots" is defined as mechas that are the creations of science, magic, or both, but either way their origins, as well as how their operate always contains a high number of fantastic elements. What differentiates "Super Robots" to their counterparts, the "Real Robots", is that "Real Robots" are treated by the characters as tools, vehicles, etc. among many, while each "Super Robot" is considered an unique character representing the personality, ideal, etc. of the pilots.
Trending pages
All items (93)
Community content is available under
CC-BY-SA
unless otherwise noted.